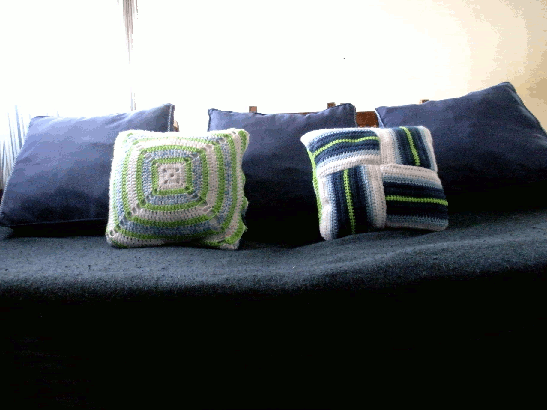 Finally I completed the other cushion to complete the set I started last year, so many projects at once make this happen but, baby steps, there is no rush.
I was inspired by a picture of some pillows in a magazine, then I added my own touch.
I used blues to match the
triangle cushions
and then added green, blues and greens, my favorite combination!
With this I learned how to sew two pieces which are not the same color and how to sew a zipper to a crochet project.
The pieces
A] I made 4 squares with half double crochet in this color pattern:
White
Row 1. Ch 27
and then 4 rows.
Light Blue: 2 rows
Blue 1: 2 rows
Blue 2: 2 rows
Green: 1 row
Blue 2: 2 rows
Blue 1: 2 rows
Light Blue: 2 rows
White: 4 rows, fasten off, weave in all those crazy ends, it's very important because later on it'll be easy to sew the parts.
My squares look kinda... odd, I think it's because of 2 reasons: 1 there are different types of yarn and 2 I might had crocheted them at night and might had made hdc where I didn't have to :p
B] I made a square starting with 6 ch joined by a sl st and then:
White:
1. ch 3, 3 dc, *3 ch, 4dc, I repeated from * till I had 4 groups.
2. ch 3, dc in the last ch of the "3 ch" from last row, 4 dc in each dc and then 2 dc in the "3 ch" group, ch 3.
And I basically repeated this, making 2 dc at the beginning and end of each group in all the rows following this color pattern:
White: 2 rows,
Green: 1 row,
Blue/white: 2 rows,
Green: 1 row
Until I had, more or less, the size of the previous 4 squares joined together.
The Sewing
A] To join the squares, I pinned them right sides facing and then I just inserted the hook in and did sl st.
A+B] This was a little challenge, the basic rule I've heard to sew crochet and knit pieces together is to use the same yarn you've used to make them, but, what happens when you have more than one color/type of yarn like me?
Well, at first I took a look at
this video
, tried it but it didn't work in my case. After a few tries I came up with this:
With right sides facing, I inserted my hook leaving a loop in the middle of my two pieces and the did sl st all over.
This loop, then, hides the stitches, which I made using white, and otherwise would pop instantly in the blues.
Last but not least,
The zipper
To add the zipper I read this:
·
Quick and dirty adding zipper crochet pouch
·
Sew in a zipper
Both have interesting points, but it was easier for me to do it my way :p
What I did was to pin one side of the zipper with the right side facing down the wrong side of the cover, I pinned the center and then to the sides, I sew in making long stitches in the fabric of the zipper and short ones in the crochet as close as possible.
Then I opened the zipper and pinned it to the other side and I basically did the same, and that's about it, my first try looks kind of wonky but I think I got it better at the second try.
And it's done, I have different looks with just 2 designs.
While I take a breath of satisfaction and still thinking about whether I should cover my crochet coasters or not, I'll take a look and enjoy what amazing projects people are sharing at
our creative spaces
.